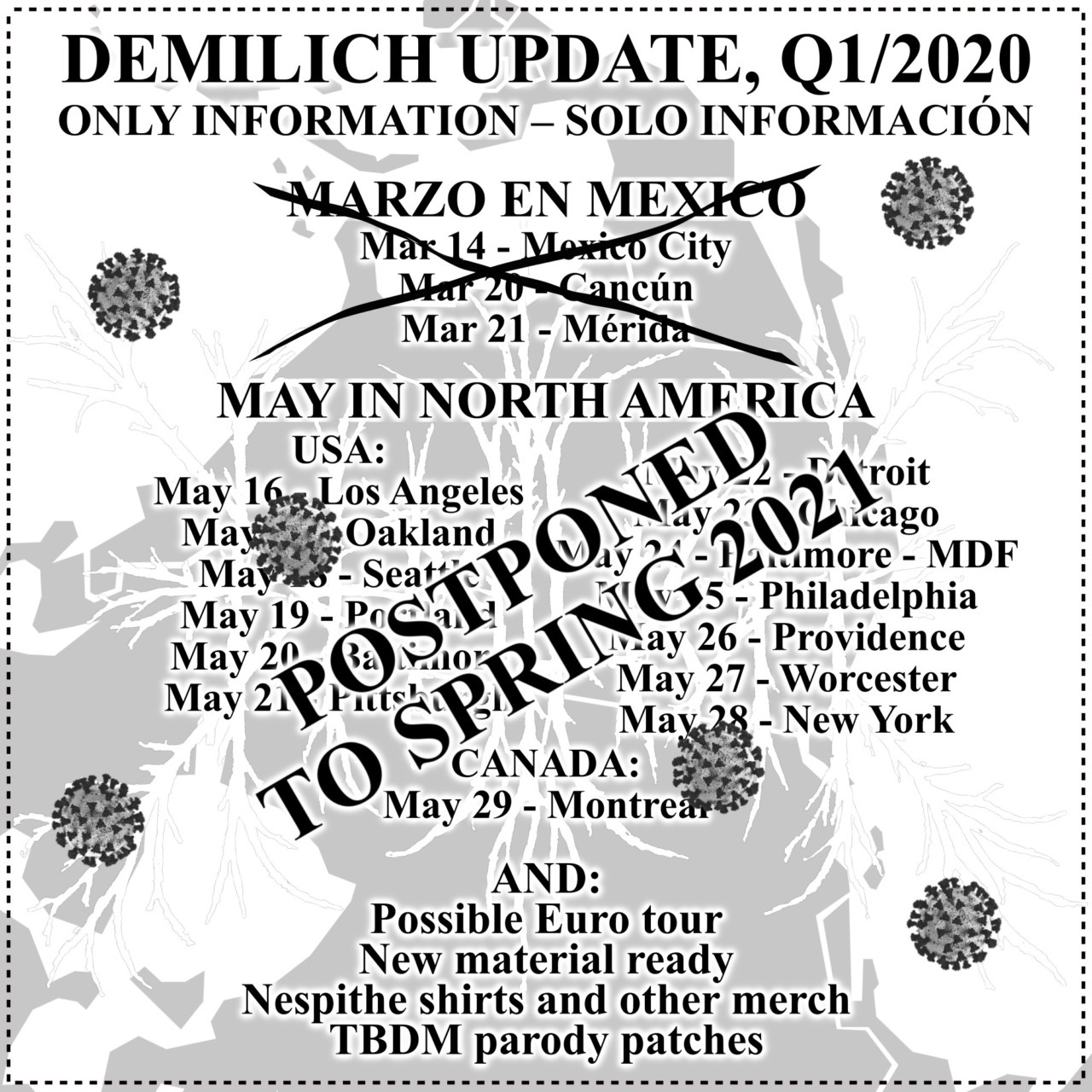 A HISTORICAL DEMILICH UPDATE WITH 100% INFORMATION, 0% HUMOR
In this update:
– Demilich in America –> Nope. Let's do it in 2021
– No extra dates coming
– Euro tour? Other shows?
– New material ready and in the works
– The Nespithe shirt competition and other merchandise
– The Black Dahlia Murder parody logo patch
Notable updates and comments on the content:
2020-03-21: NORTH AMERICA TOUR POSTPONED TO SPRING 2021! 2020-03-07: Added Pittsburgh FB event link 2020-03-12: MEXICO TOUR CANCELED! 2020-03-07: Worcester SOLD OUT! 2020-03-05: Added Providence info. 2020-03-04: The new song info getting attention in media: Metal Injection, Kaaoszine 2020-03-04: Attention: Worcester selling out quickly. 14 tickets left now! 2020-03-03: Added Portland info and fixed Mexico City date. 2020-03-02: Added Detroit FB event link. 2020-02-29: Added most Facebook event and ticket sales links. 2020-02-29: Initial post.
DEMILICH IN AMERICA
Demilich will be touring Mexico in March, and USA+Canada in May. All the info we have until today can be found in this update. If you want to get more news when we have it, there are two ways to get it:
– https://demilich.band/america2020 (this page) : This is the only page we will update frequently. And we promise to do it immediately when we have the info.
– https://demili.ch/america2020 : A mailing list for everyone who forgets to read this page. We will send the updates until the tour is over, and after that you won't get any email through it
-> Nope. Let's do it in 2021. As SARS-COV-2 decided to cancel everything, we'll do the tour in 2021. More about it here: https://demilich.band/demilich-postpones-the-north-america-tour-to-spring-2021/ . And this page won't be updated anymore. Good night, folks.
For preserving the history, and to see what we all missed, here are the dates and locations for both tours. Tickets are already in sale for most of the shows, so be quick! We will update the page above with links to show events in Facebook, and where to get the tickets. That will be done today already!
[FB] = Facebook event page, [tix] = ticket sales
MARZO EN MEXICO – CANCELED!
Mar 14, Sat – Mexico City – Total Death over Mexico lll – Foro San Rafael [FB] [tix]
Mar 20, Fri – Cancún – El Buque [FB] [tix]
Mar 21, Sat – Mérida [FB] [tix]
MAY IN NORTH AMERICA – CANCELED! More info to follow.
USA:
May 16, Sat – Los Angeles, CA – The Hi Hat [FB + tix]
May 17, Sun – Oakland, CA – Elbo Room [FB + tix]
May 18, Mon – Seattle, WA – Highline Bar [FB + tix]
May 19, Tue – Portland, OR – Dante's [FB] [tix]
May 20, Wed – Baltimore, MD – Ottobar
May 21, Thu – Pittsburgh, PA – Pyre Press [FB] [tix?]
May 22, Fri – Detroit, MI – Trumbullplex [FB] [tix?]
May 23, Sat – Chicago, IL – Avondale Music Hall [FB] [tix]
May 24, Sun – Baltimore, MD – Maryland Deathfest XVIII – Rams Head Live [FB] [tix]
May 25, Mon – Philadelphia, PA – Boot & Saddle [FB] [tix]
May 24, Tue – Providence, RI – Dusk [FB] [tix]
May 27, Wed – Worcester, MA – Ralph's Rock Diner [FB] – SOLD OUT!!!
May 28, Thu – New York, NY – Saint Vitus Bar [FB + tix]
CANADA:
May 29, Fri – Montreal, QC – Earslaughter Vol. 5 – Foufounes Electriques [FB] [tix]
NO EXTRA DATES COMING
A note to everyone asking for extra dates for the tours: Unfortunately this is all we had time for. Antti could tour months, and would love to, but he just can't get other guys to do more than this due to their responsibilities at home and work. So, no extra dates coming. We promise we will do our everything to get us tour the whole Northern America before we put Demilich to sleep.
EURO TOUR? OTHER SHOWS?
We are currently trying to arrange a two week tour in Europe in late autumn. More about that when things start clearing up. Also, we have some other shows already booked, but we cannot talk about them, yet. You'll hear about it when it's time, so don't worry.
NEW MATERIAL READY AND IN THE WORKS
Demilich has 2.1 new songs structurally done. We have to come up with lyrics, solos and some little things, but those are basically ready. Next, we will create 1.9 songs more, and then we're ready to record them all. So, you won't be getting a full-length, but it's not going to be an EP, either. Neither overly long songs filling the album length. Something possibly better. We'll tell you more when it's time, hopefully this year!
THE NESPITHE SHIRT COMPETITION AND OTHER MERCHANDISE
We had the Nespithe shirt competition running many years ago, but nothing happened after that. I already know the winner, and we're currently working on the designs, so please give us a short while more! There will also be a huge amount of new designs and products coming! The plan is to reveal all of this before Mexico, or then quickly after that.
THE BLACK DAHLIA MURDER PARODY LOGO PATCH
The Black Dahlia Murder printed hilarious parody patches reminiscing the bands that they love, and Demilich got to be one of those. They are still available at https://www.nightshiftmerch.com/collections/black-friday-2019/products/the-black-dahlia-murder-logo-patch , so grab yours if you're a lover of both bands.
HASHTAGS
#Mexico #USA #Canada #tour #NewSong #Nespithe #TheBlackDahliaMurder #parody #patch #NespitheShirtCompetition