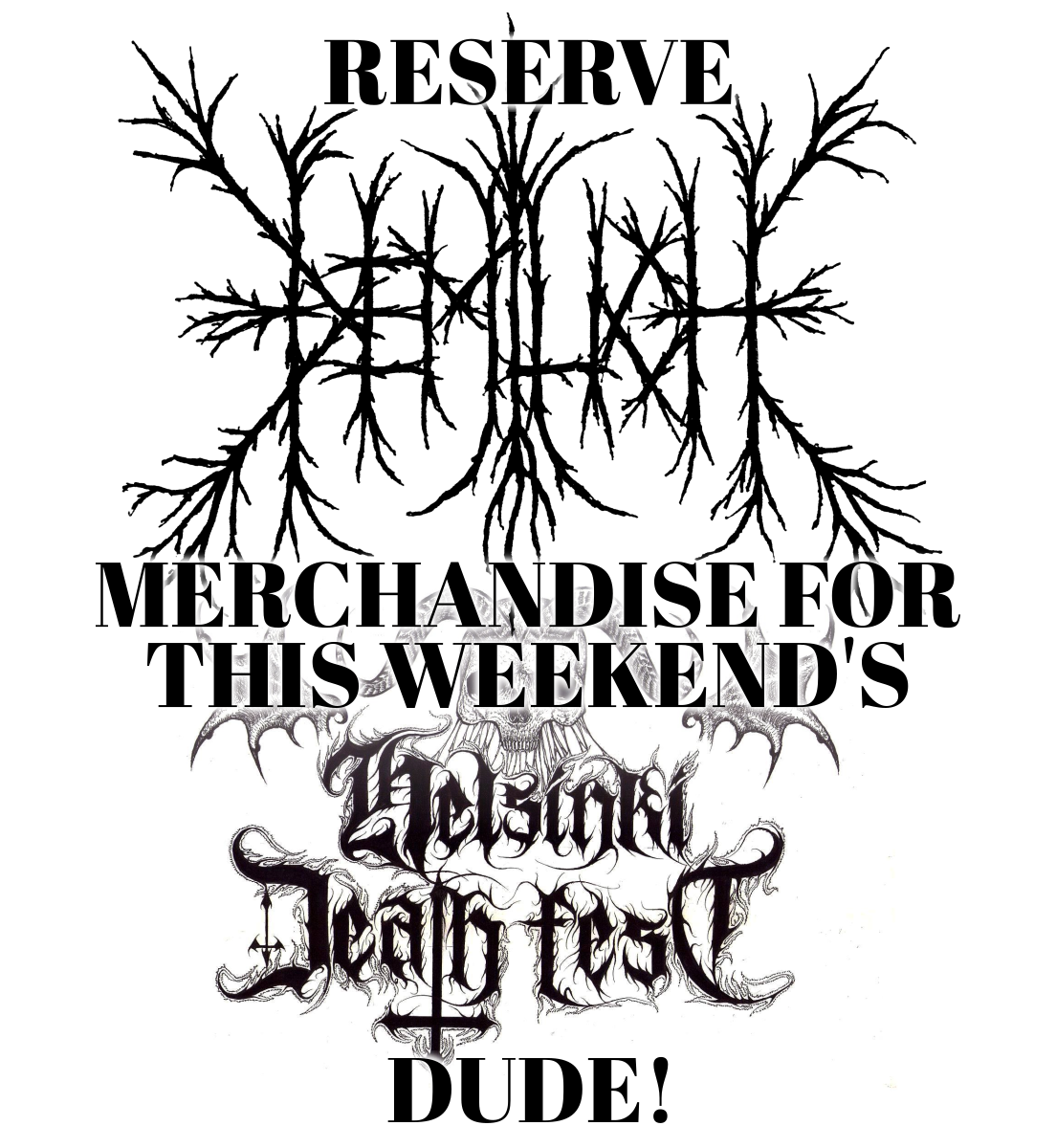 Helsinki (/ˈhɛlsɪŋki, hɛlˈsɪŋki/: The capital and most populous city of Finland. Centered around the famous Piritori.
Death: The permanent cessation of all biological functions that sustain a living organism. The thing we all eagerly wait for.
Fest: Danish/German/Norwegian/Swedish for party. Short for the English word "infestation".
Reserve: To arrange for something to be kept for you, for example, a seat on an aircraft or a table at a restaurant. Or a shirt. Or a vinyl album. Or your mother.
Merchandise: Goods that are offered for sale, especially in a store. This time in the context of the greatest web store on Earth.
Demilich will have a 60 minute'ish set on late Saturday night at Helsinki Death Fest, with a surprise guest taking part in one song! More about that around 60 seconds before the song starts!
There will also be the usual Demilich merchandise available for sale from Friday on, but if you want to make sure you'll get what you want, you can head at Demilich Shop, add the things you want into the shopping cart, and choose "Local pickup in Helsinki (FI), August 23/24, 2019". We will then use the lower festival pricing – for even the stuff that we won't sell there – and if you paid for it when checking out, we will refund the difference. We'll also contact you and arrange a meeting with Antti at the festival site. Do this before Thursday, 4 PM GMT! That's 19.00 Helsinki time, you less advanced time zone hobbyists.
And don't worry, the fest will sell our merch commission free, so the hard working people there won't be losing a dime. They will actually be able to spend the extra time for sipping alcoholic beverages and planning on world famous heists.
#Helsinki #death #fest #reserve #merchandise #HelsinkiDeathFest