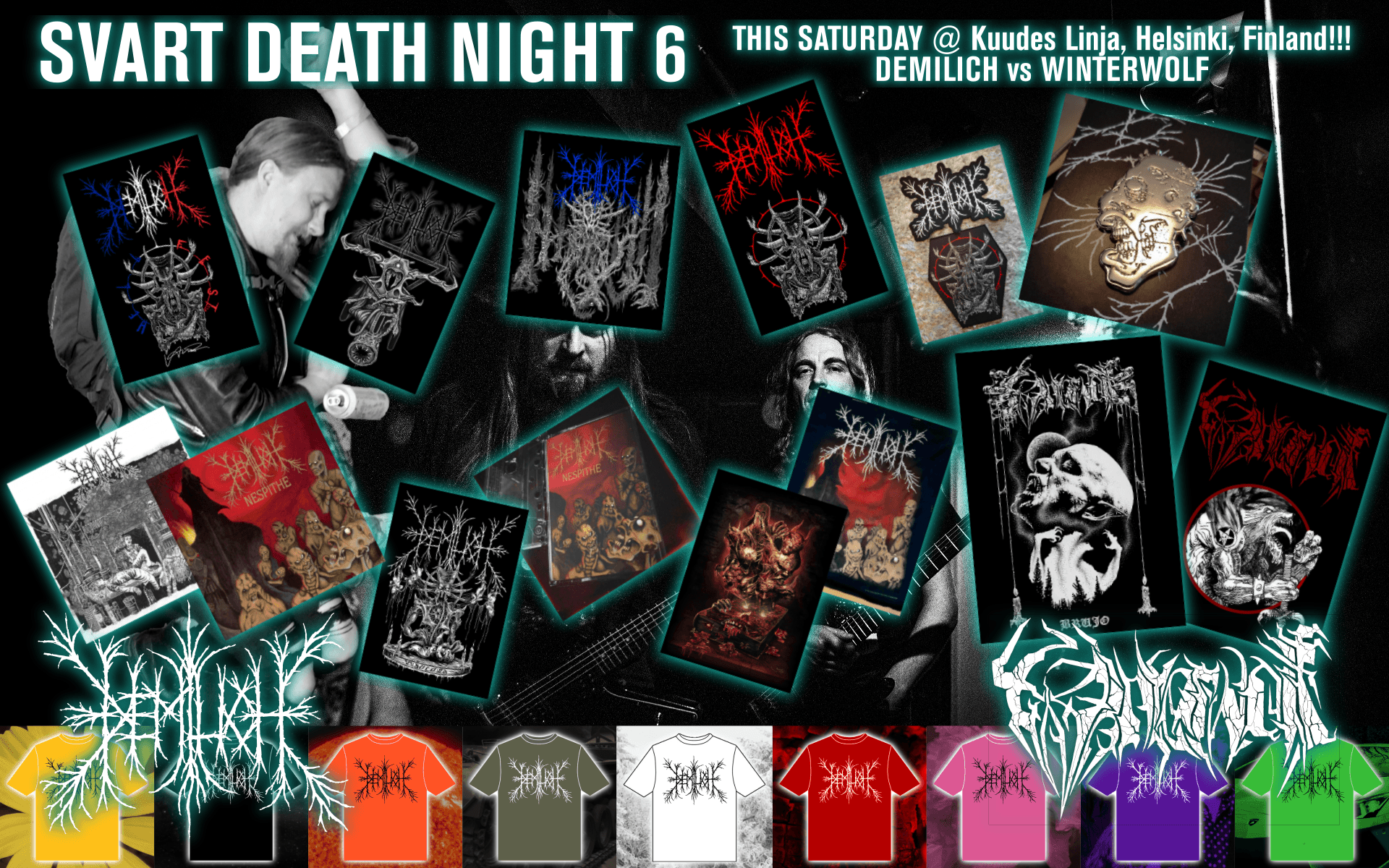 "What is this bloody mess I'm looking at?" It's the professionally designed merchandise advertisement for the Demilich and Winterwolf gig tomorrow (Saturday) in Helsinki! Behold it in awe, or die in excruciating pain!
Demilich will be – personally – selling shirts (even in colors that have no names, yet), vinyls, patches, pins, vinyls, cassettes and vinyls at the venue.
The rarities we blabbed about earlier include Musick Cadas Nespithe and TFIToD T-shirts and long-sleeves, "A Rare Minion" leftover T-shirts and girlies, Nespithe gold LPs (sold out elsewhere), numbered Vanishing test press 2LP's with Antti's signature, and much, much more! Ok, not much more, but those. We may have beanies and pins, though. Currently rare, as nobody has them.
Winterwolf will be selling, also personally, new Brujo and Natas shirts along with "Cycle of the Werewolf" CDs. The advertising agency forgot to add the CD cover in the image you're drooling on now, even though I called them a dozen times about it. Unreliable and expensive bastards.
Come to shop like crazy, or die. In excruciating pain. Which will happen to all of us, anyway. Oh, and if you buy a ticket to the fair, you'll get to see the two bands play in the background. Just perfect music for shopping, and jogging! If you like that shit.
#Winterwolf #KuudesLinja #Helsinki #Brujo #Natas #professional #advertising #agency #shopping or #excruciating #pain while #jogging