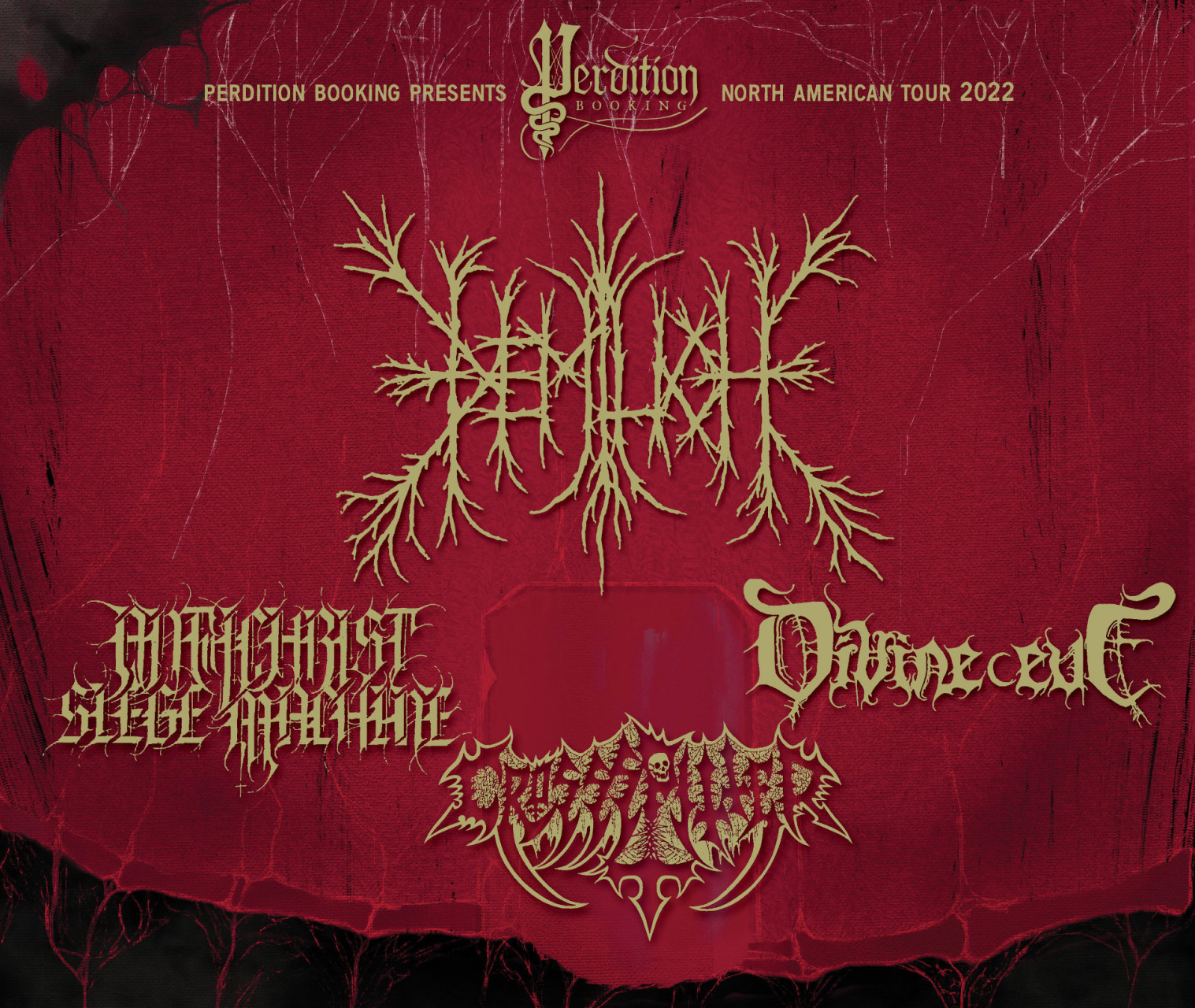 It's Nomat Ibant from Demilich International Fashion Items Ltd speaking in your head. Nice to be the external voice that mostly makes you murder people around you!
Antti's busy trying to fill his tax report, late as usual, so I took the lead and announced this, late as usual.
Demilich will return to tour the USA this May already! So great! Especially to me, as I get some time off of the shed they usually lock me in.
The tour, organized by Perdition Booking, is short again due to families, jobs and other weird things people keep around them. So, no Colorado, no Florida, no Texas, not even your biggest and coldest state, Canada. We will try to handle those later, on an exclusive tour that will definitely pass NYC and LA. No promises here, though. As usual.
Oh, and remember that the whole thing will start from Maryland Deathfest on 5/29! It's not included in the poster for clear reasons that we have no idea about.
Now, kill that person there. Yes, that one. No, definitely not as innocent as you would think.
Yours,
Nomat Ibant, the occasionally sweet voice that makes you hug random people and get kicked in the crotch thanks to it
Tour dates, constantly updated
FB: Facebook event ▪️ 🔗: Event web page ▪️ 🎫: Tickets
5/29 Baltimore, MD: Maryland Deathfest XVIII, Edison Lot ( FB 🔗 🎫 )
With Antichrist Siege Machine + Crossspitter:
5/30 Richmond, VA: Cobra Cabana ( FB 🎫 )
5/31 Pittsburgh, PA: Cattivo ( FB 🎫 )
6/01 Philadelphia, PA: Foto Club
6/02 New York, NY: Saint Vitus Bar ( 🎫 )
6/03 Worcester, MA: Ralph's Rock Diner ( FB ) – SOLD OUT!
6/04 Providence, RI: Dusk ( FB 🎫 )
6/05 Syracuse, NY: The Lost Horizon ( FB 🎫 )
6/06 Cleveland, OH: No Class ( FB 🎫 )
6/07 Chicago, IL: Reggies ( FB 🔗 🎫 )
6/08 Detroit, MI: Sanctuary ( FB 🔗 🎫 )
With Divine Eve:
6/09 Los Angeles, CA: 1720 ( FB 🔗 🎫 )
6/10 Sacramento, CA: Cafe Colonial ( FB 🎫)
6/11 Portland, OR: High Water Mark ( FB 🎫 )
6/12 Seattle, WA: Clock-Out Lounge ( FB 🔗 🎫 )