Currently in progress: Unannounced, but already collecting names for critter 2 if somebody finds the page.
Already named: 1. Suffer-Steve
When Turkka G. Rantanen painted the legendary cover art for Nespithe, he forgot to name the 12 poor and less poor things on it. Every person has a right for a name, whether a person or something else entirely. So, it's your duty to name them.
Fill in your suggestion for the name of the dude currently available for naming. We will pick up three best/worst ones, and will let you vote for the final decision. The submissions will be anonymized before picking the finalists, to prevent us from favoring some certain people that might have been too nice for us evil people.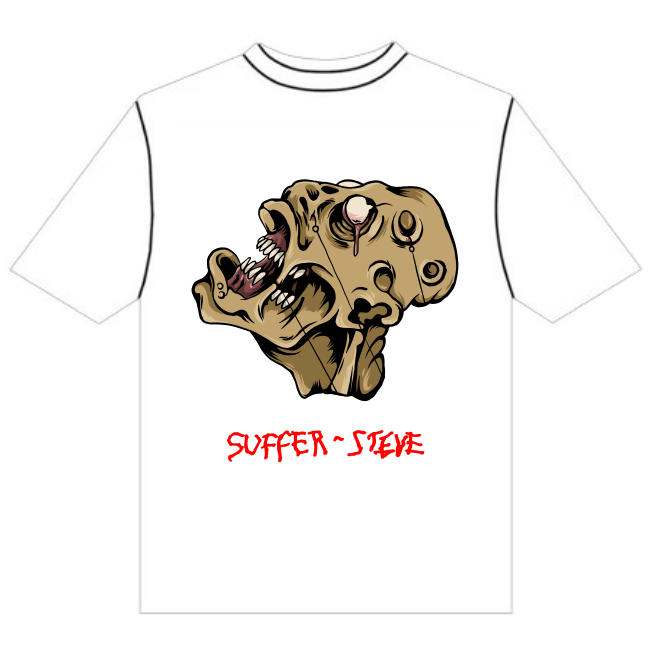 And as this is a competition, it has to have prizes. Every winner (i.e. chosen name) will get an upcoming Suffer-Steve T-shirt autographed by Steve himself, along with some other cool stuff, delivered home. If there are too many winners per name, we'll have to pick one winner randomly. And I mean random.org randomly. Meaning extremely randomly.
Your email address will be used for this competition only. We will send you a notification every time we move to the next phase, and you can opt out any time you want. Eventually we'll let you know the winners, try to advertise some shit, and then we'll leave you in peace. Your email address will not be sold to Facebook or other evil entities like Google/Apple/YourMum.
So, go ahead and make one of these your beautiful and pretty child. As I know all these guys personally, I have told some facts about them. That doesn't have to affect your decision about naming the kiddos, though! Just follow your instincts and affection.
Critter 2
This drooly lad envies Suffer-Steve. After all, Steve gets all the attention of the master that pulls the strings outside the picture. He usually goes to sleep thinking of the cruelty of the(ir) world. "Why don't we all get what we deserve? Why wasn't I chosen to be tortured?"
Critter 1: Suffer-Steve
Suffer-Steve likes the spotlight. That's why he gets most of the painful love on the island of Nespitheland. Most guys would want to be Steve, but there can't be other steves. Steve's a good boy, though. He shares some of the pain daily with his fellow compatriots.
Named by: Antti Boman
Submissions: 1 / 1
Votes: 1 / 1 (100%)