Scandinavia Deathfest 2019
2019-10-11

-

2019-10-13

1150SEK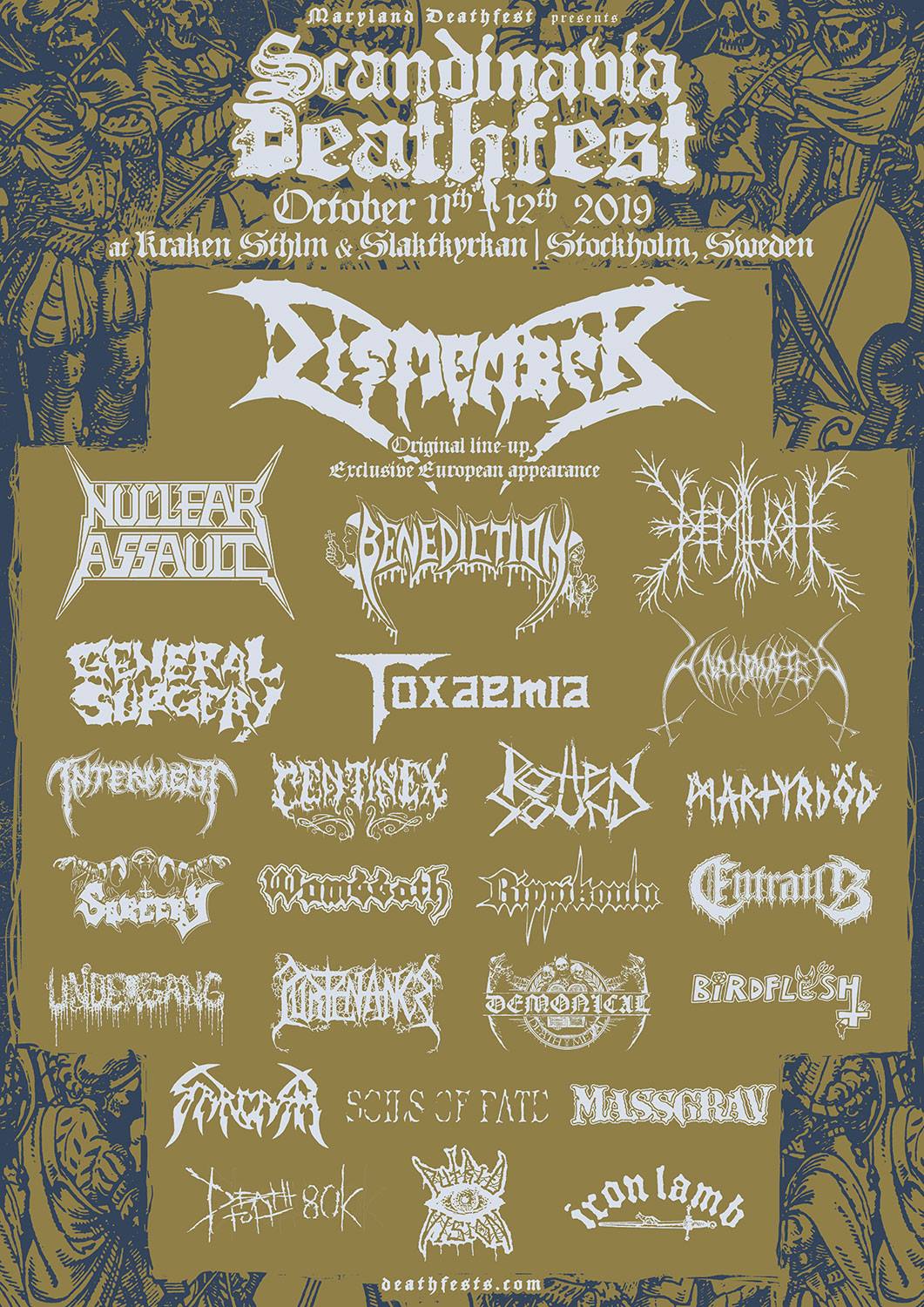 Full line-up announced for Scandinavia Deathfest 2019!
It brings us great pleasure to announce that the reunited original-LAEFS-lineup of DISMEMBER are making an exclusive European appearance at Scandinavia Deathfest 2019! This will mark the first performance by the band since 2008, so what better place for this to occur than in their hometown of Stockholm? We are extremely honored that the band accepted our invitation to perform at the first-ever Scandinavia Deathfest and we look forward to seeing many of you in Stockholm for this historic event in October 2019!
The following bands have also been confirmed to complete the line-up for SDF 2019:
Benediction, Birdflesh, Centinex, Death Toll 80k, Demilich, Demonical, Entrails, General Surgery, Interment, Iron Lamb, Martyrdöd, Massgrav, Nuclear Assault, Purtenance, Putrid Vision, Rippikoulu, Rotten Sound, Sarcasm, Soils of Fate, Sorcery, Toxaemia, Unanimated, Undergang, and
Wombbath
Tickets:
Weekend passes (Friday and Saturday) go on sale TODAY at 1 pm CET for 1,150 SEK (approx 112 EURO).
The sellable capacity is just a bit more than 1,000 people and the festival will definitely sell out, so don't wait long to get your tickets!
Get your weekend pass here:
https://www.eventbrite.com/e/scandinavia-deathfest-2019-tic…
A very limited amount of day tickets will be released at a later date after the daily line-ups have been posted.
Venue info:
The event will take place at Kraken Sthlm and Slaktkyrkan. For anyone that isn't familiar with either venue, they are just a 1 minute walk (100 meters) apart from each other. On Friday (Oct. 11), only Kraken will be used. On Saturday (Oct. 12), both Kraken and Slaktkyrkan will be used with alternating sets between the venues that will allow you to see every band.
For nearly 2 decades, we've had the pleasure of booking many of the bands that will perform at Scandinavia Deathfest, and in some cases dating back to the first several editions of Maryland Deathfest between 2003-2006, so it's a great feeling to come full circle and gather this group of bands for an event in Sweden with none other than Dismember topping things off. We're looking forward to welcoming you to Stockholm on October 11-12, 2019!