Mezar Series #15
2019-10-05 @ 21:00

-

00:00

EEST

70₺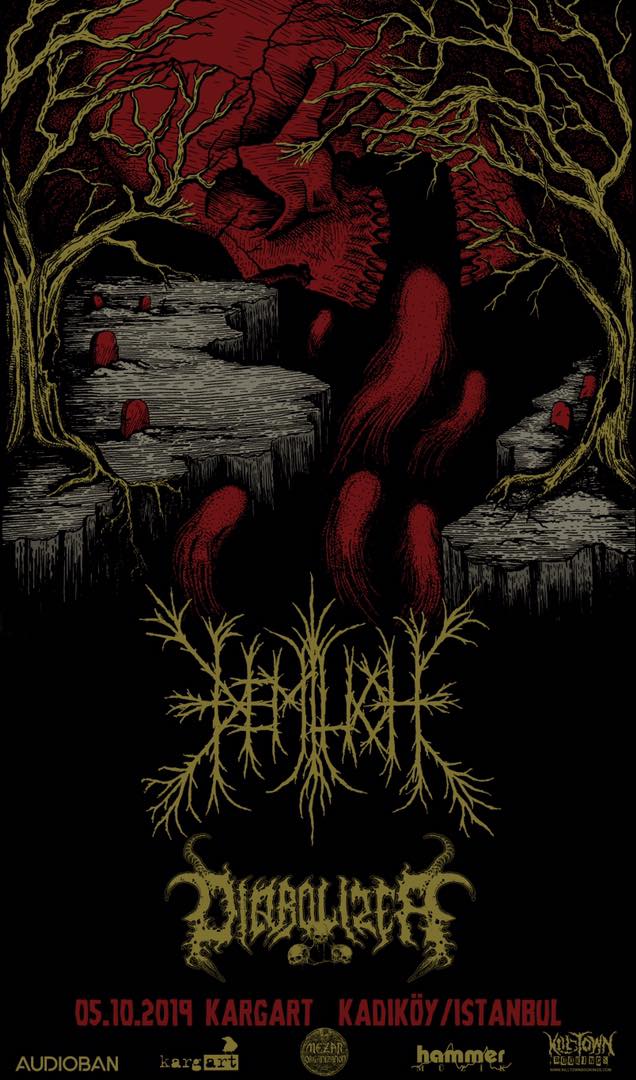 Demilich – Diabolizer / supported by Audioban
Dünyanın her yerinden yeraltı metal gruplarını Türkiye'deki seyircileriyle buluşturan Mezar Organization & Bookings ve Audioban iş birliği, Finlandiyalı death metal grubu Demilich ve Diabolizer konserleriyle devam ediyor.
DEMILICH (FI)
Finlandiya'nın Kuopio şehrinde, 1990 yılında gitar/vokal Antti tarafından kurulan underground death metal grubu Demilich, 1991 yılında çıkardıkları "Regurgitation of Blood" demosu ve ardından gelen 4 demo ile daha kendilerini duyurmaya başladılar. 1993 yılının Şubat ayında çıkardıkları uzun çalar olan "Nespithe" tam bir underground klasiğine dönüştü. 2014 yılından beri tam anlamıyla aktif olan grubu bir çok festivalde artık görmekteyiz. Sırada ise Mezar ve Audioban ile beraber Kadıköy var.
The band was created in Kuopio, Finland during 1990, established by vocalist / guitarist Antti Boman, bass player Jussi Teräsvirta plus drummer Mikko Virnes. The cassette demos 'Regurgitation Of Blood' and 'The Four Instructive Tales… Of Decomposition' surfaced the following year, after which Barathrum guitarist Aki Hytönen was added to the roster. '…Somewhere Inside The Bowels Of Endlessness…' followed in 1992. In February 1993 Demilich released their debut album, 'Nespithe' which has later become an underground classic. The band initially disbanded in 1993, but was resurrected in 2005-2006 again in 2010 and now active since 2014 with an American tour under their belt among several festival performances.
https://www.facebook.com/demilichband/
https://demilich.bandcamp.com/album/20th-adversary-of-emptiness
>>>>>> <<<<<<
DIABOLIZER (TR)
2012 yılında yayınladıkları single "Shadows of Impending Decimation" ile tanıdığımız; aslında bir çok gruptan da elemanlarına aşina olduğumuz Diabolizer, 2016 yılında çıkardığı EPsi "Apokalypse" ile tehlike arz etti. Şu anda ise albüm hazırlığındalar ve 5 Ekim gecesi uzun bir aradan sonra Kadıköy'deler!
Their first product was a single named "Shadows of Impending Decimation" released on 2012. Members are very similar to us from their other bands actually. On 2016 the released their first EP "Apokalypse" which is still contains a lot of danger. Now, they are working on an album record and on 5th October, after a long time, will play at Kadıköy!
https://diabolizer.bandcamp.com
https://www.facebook.com/diabolizer
________________________________________________
+18
Limitli sayıdaki Demilich ve Diabolizer biletleri Hammer Muzik ve Karga Bar 'da satışta! Bilet fiyatı 70 TRY. Şehir dışından bilet almak isteyenler Hammer Muzik ile iletişime geçip havale/eft yaparak biletlerini alabilirler. +18 yaş sınırını unutmayalım!!!
The limited amount of Demilich and Diabolizer gig tickets are on sale at Hammer Muzik and Karga Bar. Tickets are 70 TRY.
For foreign supporters who want to buy tickets; please contact us via Facebook, Instagram or mail.
https://www.facebook.com/mezarorganization
https://www.instagram.com/mezarorganization
mezarorganization@yahoo.com